Below is an overview of the length of charters and associated rates. All charters are available for either the morning or afternoon. The weekday and weekend rates below are to charter your private group of a maximum of six people (max by Coast Guard regulations, regardless of size of vessel). Captain Rick also runs charters for smaller, 2 & 3 person groups at a discount from Monday thru Thursday and are listed under the 2017 Weekday Rate Specials. This is the perfect setting for a more personal experience on the water. We do not mix and match groups, singles or solos. The boat is yours to enjoy for for your own private charter. Singles may fish for the 2-person rate. Additionally, multiple vessel packages can also be arranged for groups larger than six people. If the Independence is already reserved on the day(s) requested, Captain Rick has partnered with several other excellent captains in Waukegan Harbor and will be happy to check availability with them for you to fish. The Windycitysalmon Association of Charter Boats, started by Captain Rick, takes the guesswork of having you call other unknown charter boat operations, in search of an opening. All charter fishing packages and prices remain the same when Captain Rick arranges a reservation for you on another boat.
Which salmon fishing charter is right for you?

6 Hour Fishing Charter: Captain Rick recommends this charter for ALL (4-6 person) charters in April, May, June, July, August, September and October At these times of the season, schools of fish will often be found in deeper waters and the extra hour is often instrumental in maximizing more time to reach these fish and fine tune our presentation techniques.

8 Hour Fishing Charter: This charter offers the most value and gives us the ultimate flexibility in pin-pointing our presentation techniques as well as experimenting with others in order to offer you the best chance of catching both more and larger fish.

Some availability for the 2017 Season remains – We are also taking reservations for the 2018 Season as well

Weekday Rates (Mon-Thurs)

(based on your private group of up to six people – simple and straight-forward pricing with no add-on charges for fish cleaning)


6 Hour Fishing Charter – $610

8 Hour Fishing Charter – $730

Weekend Rates (Fri/Sat/Sun)

6 Hour Fishing Charter – $640

8 Hour Fishing Charter – $770

ALL PRICES INCLUDE THOROUGH RINSING, ICING, AND BAGGING OF YOUR CATCH ON THE BOAT. FISH CLEANING IS FREE IF WE CATCH FIVE OR LESS FISH. OTHERWISE, $1 A FISH APPLIES FOR ALL FISH CLEANED IF WE CATCH MORE THAN FIVE. THE FISH CLEANING OPERATION AT THE END OF THE CHARTER IS A MESSY AND TIME-CONSUMING BUSINESS. HUNDREDS AND HUNDREDS OF HEAVY DUTY FISH AND ICE BAGS ARE PURCHASED AND USED OVER THE COURSE OF THE SEASON. CAPTAIN RICK IS ALSO SYSTEMATICALLY MAKING AND BAGGING ICE, TWICE AND THREE TIMES A DAY. THE FISH CLEANING FEES COVER THE COST OF THE SUPPLIES NEEDED BUT ON SLOWER DAYS OF FIVE OR LESS FISH, CAPT RICK WISHES TO MAKE THE SERVICE COMPLIMENTARY. Captain Rick also has a variety of delicious and simple recipes on this website for you to enjoy your catch afterwards including his own famous Salmon Cakes recipe!

** 2017 Weekday Rate Specials **

— $190/person for 2 people, 5-hour charter Monday thru Thursday —

— $155/person for 3 people, 5-hour charter Monday thru Thursday —
Come Fishing To:
** Catch and Prepare a Delicious and Healthy, Wild Salmon & Trout Dinner **
** Take Clients on the Water for a Unique and Memorable Fishing experience **
** Birthdays/Family Outings/Father's & Mother's Day **
Other Details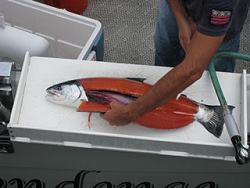 Morning charters leave the dock at either 5am, 6am or 7am depending on time of year. Afternoon charters usually depart the dock at 11am or noon.
$100 deposit required for each charter, at the time of booking, in order to secure your reservation.
Deposit goes toward final balance. Final balance paid when we fish. Cash preferred but check or credit card is accepted.
Gratuity is appreciated
14-day cancellation is required for deposit refund.
If we can't fish due to high wind/waves/lightening, we can attempt to reschedule or refund deposit.
Deposits can be made online by credit card or by mailing a check. Click here to make an online deposit.