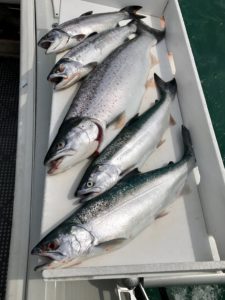 Listed below are comprehensive charter fishing packages with hotel arrangements. Windycitysalmon is very pleased to offer straightforward and easy to read pricing plans with no hidden fees or vague restrictions that can be confusing. Each price you see is the TOTAL cost per person plus fishing licenses.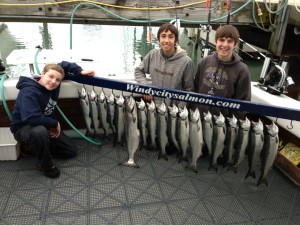 All Packages Below Include:
-Two separate charters, usually an afternoon followed by a morning
-One night lodging (double occupancy or rollaway bed for three or five person groups). Captain Rick has partnered with Illinois Beach Resorts to provide his customers with a comfortable night's stay, just several miles from the harbor. Illinois Beach Resorts is located on state park property on the shores of Lake Michigan. It is a large hotel which hosts many weddings and banquets and for your convenience, operates their own on-site restaurant and bar/lounge. When comparing packages with other charter services, you should be sure to ask at which hotel you will be staying. Capt Rick feels that Illinois Beach Resorts is the best property the area can offer, right on the water, and is closest to the harbor. Captain Rick partnered with this hotel in this regard; not to find his own lowest cost option to increase package price profit. In most cases Capt Rick can arrange early check-in and late check-out as well.

Spring Coho Salmon Run
Two five-hour charters with an overnight in between is recommended in May for the Coho Salmon Run
# of People Price Per Person
6 $300
5 $320
4 $380
3 $405 Mon-Thur/$475 Fri-Sun
2 $495 Mon-Thur/$700 Fri-Sun
Summer Sportsman's Package
Two six-hour charters with an overnight in between is recommended for June thru October
# of People Price Per Person
6 $325
5 $350
4 $420
3 $445 Mon-Thur/$520 Fri-Sun
2 $560 Mon-Thur/$765 Fri-Sun
The following Single Charter Sojourns are packages for one charter with one night lodging
All Packages Below Include:
-One charter and one night lodging at the Illinois Beach Resorts
6-hour Sojourn Fishing and Lodging Package
# of People Price Per Person
6 $195
5 $210
4 $245
8-hour Sojourn Fishing and Lodging Package
# of People Price Per Person
6 $215
5 $230
4 $275