Below are several, easy-to-make salmon recipes for you to enjoy your catch after you arrive home. For the most part these recipes are species-versatile and will work with any of the salmon and trout we catch. I specifically picked these recipes because they are simpler and most people will already have all of the necessary ingredients. A common question I get on the water is 'so, how much salmon do you eat'? And while the answer is, a fair amount – most customers take home all of the fish they catch – my favorite preparation is the Salmon Cakes. enjoy! – Capt Rick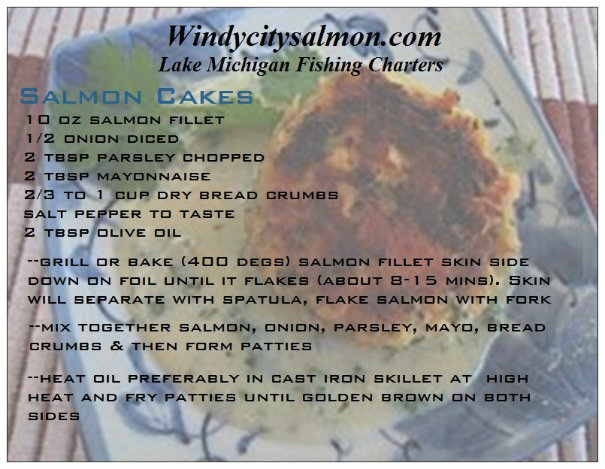 Salmon Cakes
10oz salmon
1/4-1/2 onion diced
2 TBSP chopped parsley
2 TBSP mayonaise
2/3-1 cup dry bread crumbs
salt and pepper to taste
2 TBSP olive oil
Grill or bake (400 degrees) salmon fillet, skin side down until salmon begins to flake. Skin will separate with spatula.
Mix Together salmon, onion, parsley, mayo, and bread crumbs. Get creative. If you like spicy, add some cayenne pepper.
Form patties after ingredients are mixed thoroughly. You can make small patties or large patties to put on a bun for burgers.
Cover bottom of a pan with olive oil heat at medium-high. Saute patties until golden brown on each side.
I like to top salmon cakes with remoulade sauce or a simple, slice of butter.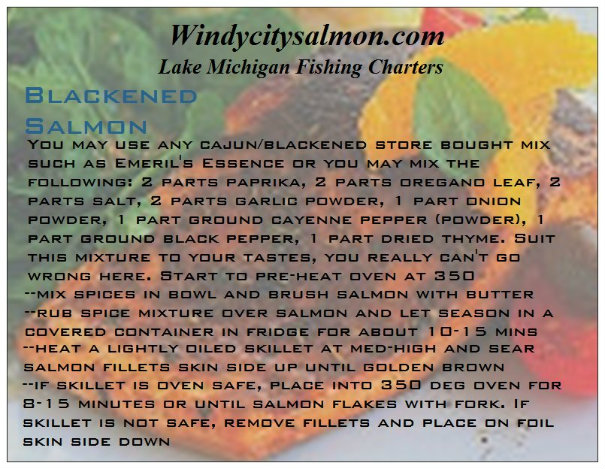 Blackened Salmon
Any cajun/blackened mix found at the store. Or for your own mix use: 2 parts paprika, 2 parts oregano, 2 parts salt, 2 parts garlic powder, 1 part onion powder, 1 part ground cayenne pepper, 1 part ground black pepper, 1 part thyme. Suit the mixture to your own personal tastes.
Any size salmon fillet
Pre-heat oven to 350.
Mix spices in a bowl and brush salmon fillet with melted butter.
Rub spice mix over salmon and let season, covered in fridge for 15 minutes.
Heat a lightly oiled skillet/pan at med-high and sear salmon fillet, skin side up until golden brown.
If skillet/pan is oven safe, flip salmon to skin side down and place into 350 degree oven for 8-12 minutes until salmon flakes.
If skillet/pan is not oven safe, place salmon fillets, skin side down on foil, on a cookie sheet and bake for 8-12 minutes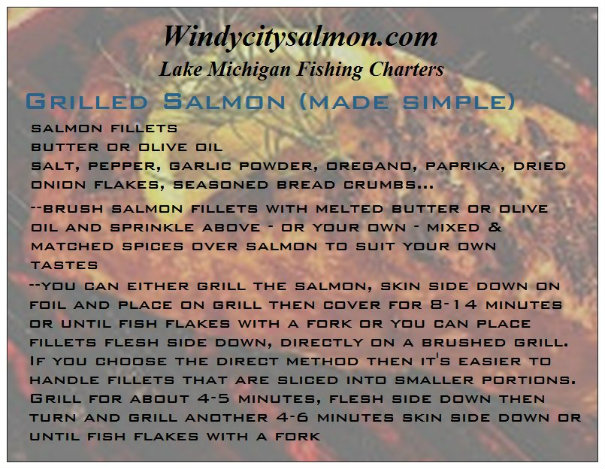 Simple, Grilled Salmon
Any size salmon fillets
Butter or olive oil
Salt, pepper, garlic powder, oregano, paprika, dried onion flakes, seasoned bread crumbs
Brush salmon fillets with melted butter or olive oil and sprinkle above herbs and spices – or your own blend – to suit your own tastes.
You can either grill the salmon, skin side down on foil and place on grill then cover for 8-14 minutes until fish flakes with a fork. Or you can place fillets flesh side down, directly on a brushed, oiled grill. If you choose the direct method, then it's easier to handle fillets that are sliced into smaller portions.
Grill for about 4-5 minutes, flesh side down then flip, skin side down and grill another 4-6 minutes, or until fish flakes.