What To Expect & Bring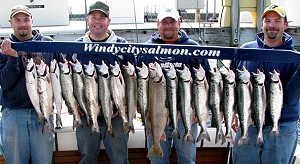 Some of our customers are seasoned veterans but because we get a steady flow of traffic from people that are new to salmon fishing on Lake Michigan we feel compelled to tell you what to expect on our fishing charters as well as what to bring.
Our fishing charters are geared 100% towards your enjoyment. As we are a full-time, professional charter fishing guide service, we don't hold any other distracting part-time jobs, not even in the off-season where time is spent repairing and taking care of equipment and building fishing strategies for next season.
We have fished the waters around Chicago for many years and have caught tens of thousands of these fish on our own. These days, Captain Rick gets just as big a kick out of taking customers out to catch fish as he does himself! It is in this regard that we will give you an honest and hardworking effort towards your enjoyment in the hopes that we can hook you up with the biggest fish of your life.
This also means that we run a clean boat and that our equipment is maintained in a professional and proper basis. We don't cut corners here and we have invested in top of the line rods, reels, line, lures, and rigs available. In that regard, we feature Penn International 975, Shimano Tekota, and Daiwa Saltist reels/Ugly Stik and Shimano Talora rods and we in fact also hand-tie a lot of the fly rigs that we will use.
You should bring the following in order to ensure your own comfort
Each passenger is responsible for obtaining their own Illinois fishing license & Salmon Stamp - 24-hour license/salmon stamp is available for purchase at the harbor for $6 each. Anglers that already possess a season license can purchase a salmon stamp at the harbor as well. Upon request, Captain Rick will gladly arrange to have licenses & stamps on board for you to fill out before embarking on the charter.


Camera - While most days we will have a camera on board and will even email you pictures, you should ensure that your party has at least one camera.


Shoes and Clothing - Soft soled shoes. Tennis/running shoes or sandals are great but avoid any shoes or boot with a hard heel/sole. We personally recommend and ourselves, usually wear long pants to protect against sunburn as well as biting flies that we can encounter on dead calm days. Flies literally lay their eggs on the water surface when there is no wind and there is little we can do to prevent them from coming on board to join the party as we pass them by. Dead calm days do not occur very often but when they do you will be more comfortable in pants.


Sunglasses and sunscreen - You will be surprised how fast you can get sunburn on the lake even when it's cloudy. The reflection of the sun on the surface of the water makes sunscreen and glasses a must.


Raincoat - We do fish in the rain and the Independence has a large hardtop roof and cabin to keep you dry but the action can be good during a rainstorm.


Jacket or Sweatshirt - Bring a sweatshirt or jacket for the morning and early evening or if a cold front should move in. The weather can change very quickly on the lake. Dress even more appropriately for spring charters which could even include a heavier jacket, and maybe even longjohns and a winter hat. In general, dress so that you think it will be colder than you think but be sure to layer down well enough for those warm afternoon hours during the summer.


Cooler - A cooler to store your sandwiches and beverages and don't forget to bring an ample supply of water for those hot sunny days. We do not run a fresh water source on board. Please limit your alcohol to beer and wine. Hard alcohol is better left on shore as losing your balance and even a light chop on the water can literally be a very dangerous combination on the lake. Be sure to have cooler accommodations available in your car or otherwise to transport your catch home AFTER the charter. Our large onboard cooler will keep the fish we catch on ice during the trip and I will clean, ice, and bag your catch after the charter is over - free of charge - but on a hot summer day you will need a cooler of some kind to keep the fish fresh for your trip home.

A few other items:

Please make us aware of any medical conditions that anybody in your party may have. There will be times that it could take up to an hour to return to the dock from our fishing grounds. While Captain Rick is certified for CPR/First Aid, in the interest of safety we want to be in the position to accommodate any potential emergency that could arise.


Please leave all illegal drugs on the shore. By order of the US Coast Guard, all charter boats are required to be drug-free at all times and we are regulated and monitored as such.


Please make sure you have made arrangements for small children and infants ahead of time. We welcome aboard children at about the age of 10 and over - as long as they don't increase the party beyond 6 people - by way of Coast Guard regulation - but younger children and infants present unique safety concerns that we unfortunately cannot accommodate.


A word on motion sickness. If you feel you are at any risk of getting seasick, we strongly urge you to take an OTC medication such as Bonine or Dramamine an hour before we are scheduled to leave the docks, which are available at any drugstore. For full effectiveness, take a dose the night before you go to bed the night before as well. This advice isn't meant to scare you to think that it is common but rather to be better safe than sorry as it is too late to take anything once you have already become sick. Our good track record of only a few passengers getting sick each season is based on our insistence that they take these precautions well before we are scheduled to leave the dock. Another extremely effective option for those of you that know for sure that you easily get seasick is to call your doctor for a dime-sized prescription scopolamine ear patch. We have never seen anybody get sick while taking this latter medication.